The planets finally aligned. Ross and I were able to go flying again (finally). And we were able to go somewhere. So this was our first "destination flight". Our destination started out being Siskiyou Airport in California. We went to Pelican Aviation and ran into these guys who were also going flying. They warned us not to go to Siskiyou--nothing there apparently. So we took their advice and headed for Montague, California. Montague is six miles from Yreka/I5. It's about 40 minutes flying from Klamath Falls direct line. Our map:
..

Before we could leave, we had to contend with all the other planes on the runway. F15s included: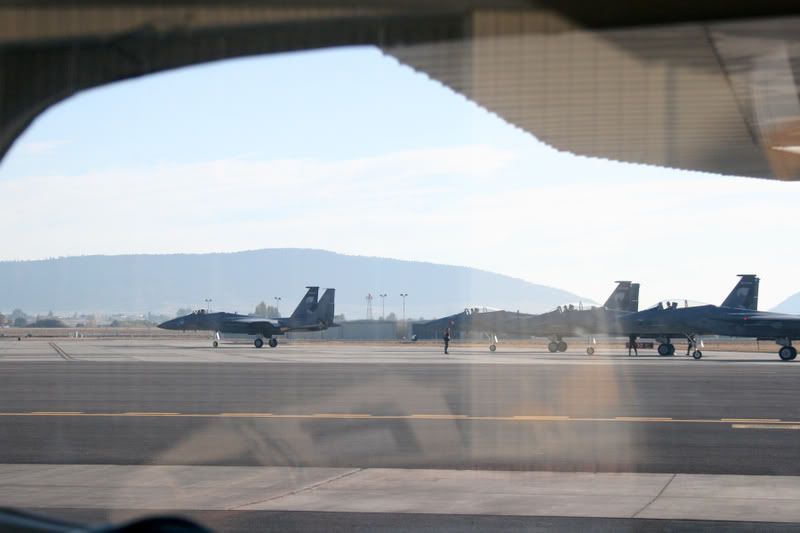 It was very busy. The funny part was when the United/Sky West airplane had to wait for our little Cessna to take off. Neiner neiner!
.
There are a group of pilots from Klamath Falls who fly to Montague every Saturday. The Airport Operator's wife makes fresh home-made cinnamon rolls to share with all the pilots. It was rather ironic; before we knew if we were going to get to go, I told Ross I wanted to go get cinnamon rolls. So I got my cinnamon rolls after all. The people there were super nice! After cinnamon rolls, we walked into the main part of town about a half mile away and got there in time for their Farmer's Market (and a cool statue).
Then we got back in the plane and flew home. Gotta love my pilot!!!

And if that wasn't cool enough, last night Ross's buddy called him to see if he wanted to go flying. His buddy is a brand new instructor and needs some instructor hours. Ross being a new pilot can still use hours with an instructor. So they went for a night flight--and I got to tag along. It was beautiful flying over the city at night!!! And we got to try out a new plane (instead of the rental Cessna). It was so awesome.